Fifteen years show ark factory tells you, jewelry counter should surround these 5 big centers to make!
Source:Funroad Exhibition & Display Author:凡路深圳展柜厂 Visit:276 Pubtime:2018-06-07 13:17:58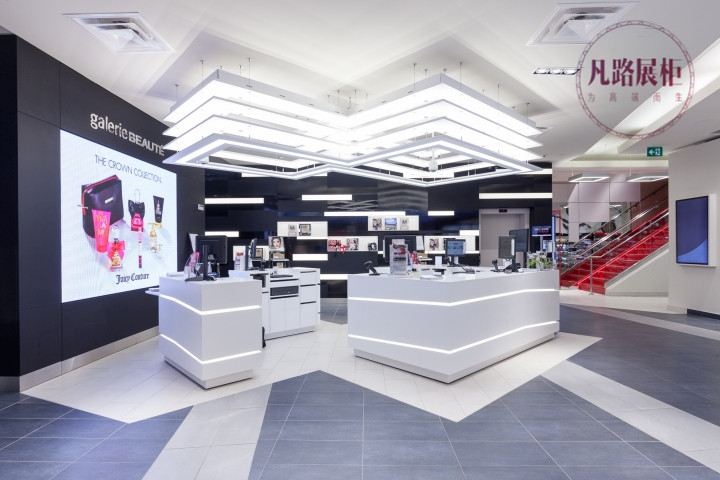 Jewelry shelves design is for the purpose of better foil merchants product characteristics, therefore, jewelry display ark design is how to better show jewelry characteristics, to attract the attention of more customers.What are the jewelry displays made around?
1. The design of jewelry display cabinets should highlight the features of products
Jewelry display cabinet design to set off the characteristics of products, product features can attract attention.The product should be selected with shelves design, is compared commonly special products, new products, it is very important or products, through the location, layout, lighting design to highlight the key items.
2. Jewelry display cabinets should be simple and generous in design
Think generally go shopping yourself isn't all the way to have a lot of shops, but so many shops, the first thing you will scan in the past, look at that one is you prefer, you can go in and see, in after you there to see if you like.Because the audience walks in a hurry, they will not be interested if they cannot feel interested in the moment.In addition, the booth is too complex and easy to reduce the work efficiency of the booth staff. The selection of products and display cabinets should be representative, must be selected, must be abandoned.Brevity and lightness are the best ways to get your audience's attention.
3. The design of jewelry display cabinets should take site space into consideration
Jewelry booth designers should consider the number of staff and visitors.A crowded booth will not work well, and it will make some of the target audience lose interest.
4. Make a deep impression on users
The design of jewelry display cases should take into account customers, mainly the purpose, emotion, interest, opinion and reaction of the target audience.Design from the perspective of target customers, it is easy to arouse customers' interest, resonance and leave a deep impression on the audience.
5. The jewelry display cabinet should consider the safety of crowds
Exhibitors may want to walk about in booth there were a lot of free space, or crowded together are not interested to see bottom go to, want to let the audience can understand positive, product information, may also want to record every audience's information, the booth arrangement is the key factor to control the traffic management.Therefore, when making the display case, we should consider the safety of the stream of people to design.
This article is provided by shenzhen Funroad jewelry display cabinet direct selling manufacturer: 20 years of experience in jewelry store display cabinet design, help you quickly improve brand value in 2018.