Jewelry display cabinet making materials - particle board!
Source:深圳珠宝展柜厂 Author:凡路商业展柜 Visit:542 Pubtime:2018-03-19 09:53:45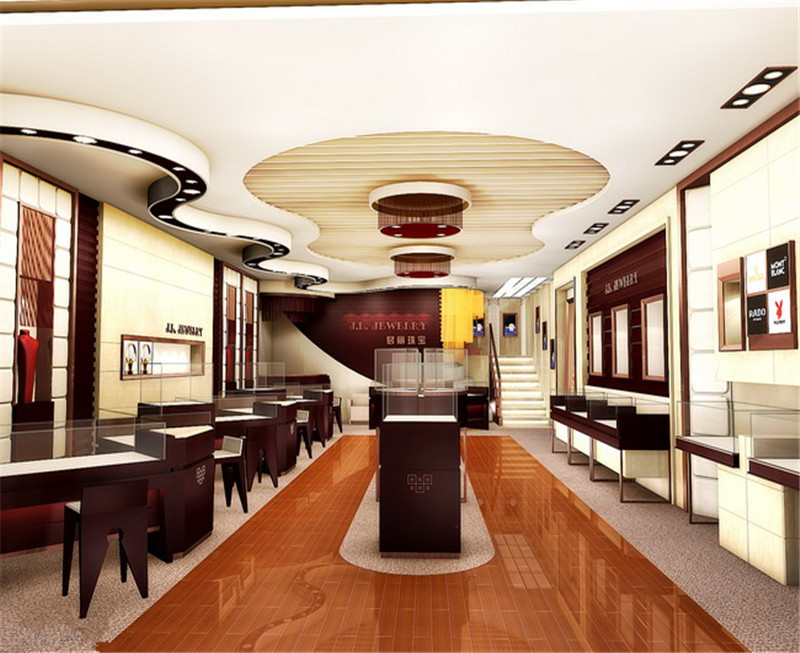 Particle board and solid wood particle board, is a common cases to make material, made of wood or other lignocellulose materials broken material, adhesive in the heat and pressure under the action of glued into a man-made board.The particleboard structure is more uniform, the processing performance is good, can be machined into a large plate according to the need.
The particle board can be divided into three types: 250 ~ 450KG/ m3, medium density of 550 ~ 700KG/ m3, and high density of 750 ~ 1300KG/ m3, but it is usually produced with a particleboard of 650 ~ 750KG/ m3.Generally used with melamine board, after finishing the English abbreviation MFC.
The advantages of particleboard are good sound absorption and sound insulation performance. In the process of production, the use of glue is small and the environmental protection coefficient is relatively high.The disadvantage is that the interior is granular structure, not easy to mill type.
The common specification is 2440mm*1220mm, the thickness is 9mm, 12mm, 15mm, 18mm, 25mm, etc., according to the formaldehyde emission, the E1 and E2 levels mainly refer to the high and low levels of formaldehyde content in the finished sheet, which is less than 9mg/100g.E2 is less than or equal to 30mg/100g.
Shenzhen factory specialized is engaged in the manufacture, exhibiting ark exhibiting ark customized storefront design, exhibition shelves, shelves design, storefront design and decoration services, including clothing, jewelry, shoes and hats, bags, mobile phone, electronic appliances and other industries, is a professional design consultant you upgrade store brand.
This article is provided by shenzhen Funroad jewelry display cabinet direct selling manufacturer: 20 years of jewelry store display cabinet design experience, 2018 will help you to rapidly improve the brand value.