Like the jewelry counter
Source:Funroad Exhibition & Display Author:Admin Visit:708 Pubtime:2017-06-07 17:37:41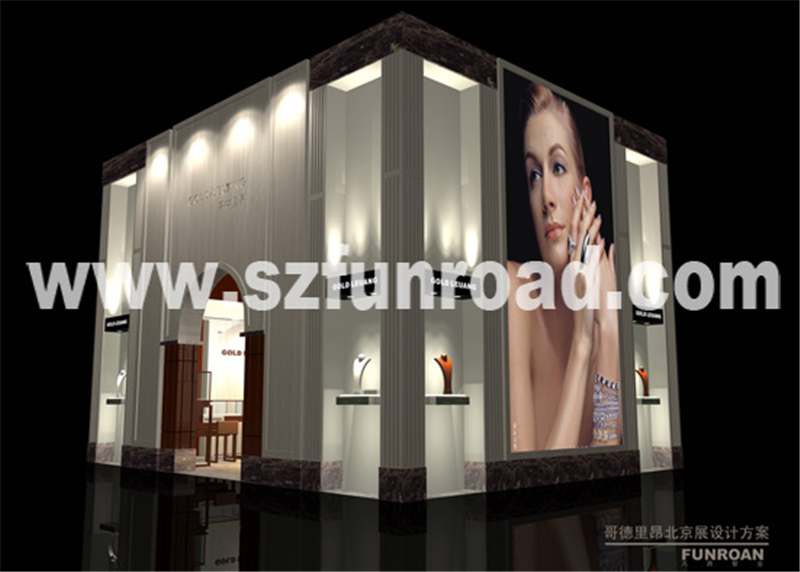 Woman as the natural love jewelry, jewelry also seems to be a natural for women, its bright light for makeup dot the woman charming appearance, but a woman never answer to the charm of it, into the jewelry store, good jewelry counter will be attracted, gorgeous jewelry store design, by the wide variety of jewelry all the attention.Suitable jewelry counter store design, can improve the turnover of the jewelry store, can also add luster to the city, make the consumer satisfied.Jewelry store design is different from the design of the hotel or restaurant, of course, it is precious gold and silver jewelry sales, goods are small, but very expensive, so it decorate must reflect the class of the jewelry.
The most important part of jewelry store design jewelry shop is the decoration of the shop.Jewelry store decoration must be consistent with sell jewelry brand class, if a good jewelry brand in a storefront renovation are mediocre stores sell, so the brand's sales will be affected.Concise and easy, elegant and elegant decorate not only the brand temperament that accords with gem jewelry, more can show the taste that buys a customer.
But the decoration industry should not be too luxurious, because too luxurious decoration will block the eyes of the customer to seek, prevent the step that consumer explores.Decorating is so, the design of the counter and putting also is so, only bring out the best in each other to decorate and put, can only hold the customer's eyes, retaining customers hurried footsteps.Exquisite jewelry store design must first from the most visible sign of a can generalize jewelry temperament and extreme attract customers shop name, this one design is half the success, such a name, will let the customer never forgets anything, deep into the heart of customers.
The good name is half the success, and the good name not only attracts the customer, but also the trend of The Times.The next is that of the space planning, design as a sales site, more spacious shopping space to provide customers with a good mood, mood good customer, you can get a higher purchasing power.Therefore, exquisite jewelry store design is one of the important sources of business opportunity.Expert studies show that the lighting factors in jewelry store design have a great effect on the operation of jewelry stores.Because of the unreasonable lighting not only can foil a unique jewelry design, will also affect the mood of customers and business personnel, the change of the mood will naturally affect the jewelry trade, so reasonable illumination distribution proportion is very important.