Why are more and more jewelry merchants choosing to decorate the jewelry display case in shenzhen?
Source:珠宝展示柜台厂家 Author:凡路商业展示 Visit:650 Pubtime:2017-10-12 10:22:58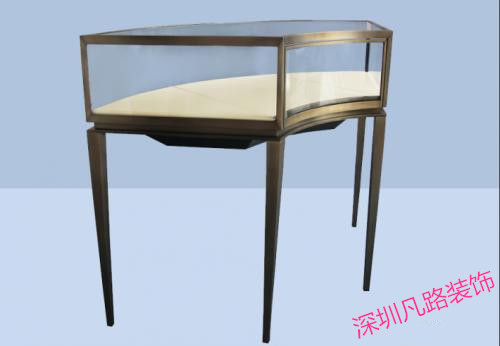 Guest: I have my eye on this glass jewelry display cabinet in your home. What is the price?Is there a guarantee of quality?The after-sales service and so on will appear.And wonder if our regular jewelry shelves manufacturers, for these problems, every road under factory has a better answer, it's not, a jewelry company in shenzhen is purchasing YQT - H9560 deluxe edition jewelry display ark.
Professional jewelry display cabinet manufacturers like to find the titanium booth
More and more jewelry display cabinet users chose shenzhen fan road display cabinet factory, why?Because the quality of the road display case is too hard, the price is affordable, pre-sales and after-sales service is in place, the road display case will save you money, save time, save time.So, who do you choose to choose?
Because focus, so professional
YQT - H9560 deluxe edition jewelry display ark is a very classic reveals ark, cabinet body with environmental UV board + black + silver aluminum mirror glass, ultra clear glass production, profile mould a shape, color after plating oxidation treatment, rust prevention, this design improves the service life, safe and beautiful, let a person shine at the moment, without being limited by the space, suit to put any place.It is not discolored, anti-aging, and its service life is much higher than that of baking paint, fire prevention, environmental protection, waterproof, easy to clean and completely eliminate rust problem.
Check out what other customers are using!
Cartier, wei ni hua jewellery, Carrie lai jewelry, jade, the five ridges tongtian Jin Liufu jewelry, lee jewelry, curzon of table rows, jubilee diamond jewelry, China gem net, keyuan optical jade, jade cicada edge, the edge, zunyi international jewelry city, fu xin long jewelry, rongsheng amber wholesale center...
24-hour customer service hotline: 400-029-9980, if you are interested in the above custom glass jewelry display ark or questions, please contact us, all the way of professional jewelry counter sourcing consultant will provide you with high-quality procurement advisory services.
, every road decoration project in shenzhen was established in March 1997, is one specialized is engaged in the terminal display, exhibition shelves manufacture is a body comprehensive industrial production enterprises, can produce different kinds of products of commercial display cabinets, such as digital storefront, high-quality goods shelves, jade jewelry shelves, shelves clocks and watches, glasses shelves, shelves, etc.After 20 years of steady and steady development, the company has set up a number of departments including sales department, foreign trade department, promotion department, design department, engineering technology department, finance department, customer service department, warehousing logistics department, etc.With the advent of the era of network, shenzhen every road cases and constantly promote research and development and service ability, products to footprints all over the country more than 250 cities, but also to the United States, Canada, Italy, France and other countries overseas.
This article is provided by the direct selling manufacturer of all road jewelry display cabinets: 20 years of experience in display cabinet design for jewelry stores, which will help you to improve your brand value quickly.