A well-known Canadian high-end silver jewelry brand, white jewelry display cabinet installation completed
Source:Funroad Exhibition & Display Author:Admin Visit:36 Pubtime:2020-09-17 15:31:52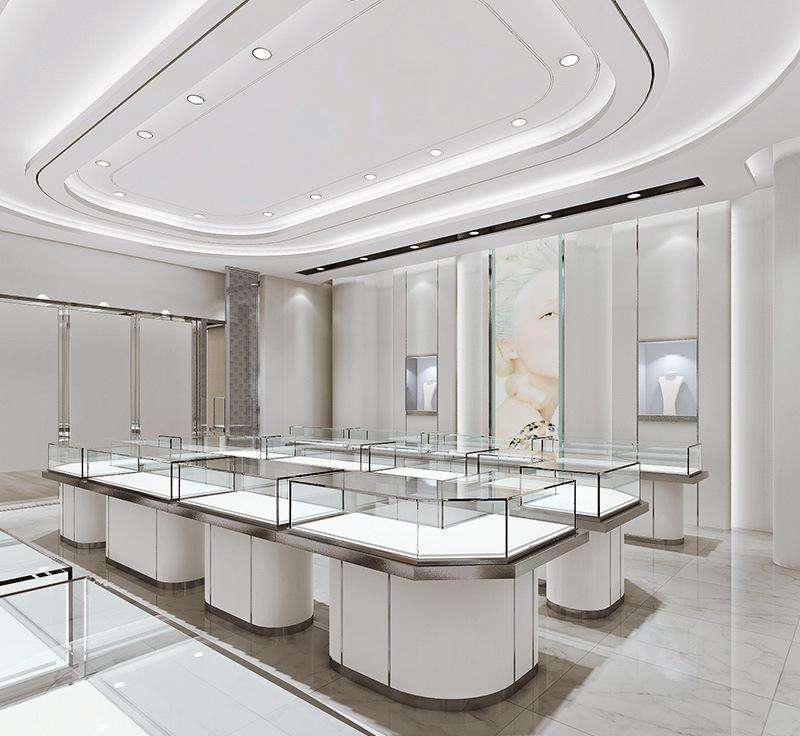 Canadian jewelry originated from Greece. Its main products include gemstones, jadeites, high-end silver jewelry, and diamond-inlaid jewelry products. The brand entered the international market in 2018.
Up to now, the number of stores has reached more than 80. The brand store area that we cooperated with our company this time is more than 60 square meters. The store design is a unified brand image. Our company is responsible for the sales cabinet in the store and the jewelry display cabinet on the facade part of the wall. Customization and on-site installation, the production period is 15 days, and the completion date is December 2019.
Design renderings
As a high-end silver jewelry brand newly entering the Canadian market, it has a strong brand awareness. First, it adopts an internationally unified brand image in the decoration design style of the store, and then covers the stores in various regions to allow more customers to remember Canadian jewelry.
The actual shot of the installation of the showcase on-site
These jewelry store display cabinets are MDF frames and tempered glass top panels.
The bottom is for storage, with a sliding door that can be locked.
In order to effectively control the decoration cost, a professional construction designer was invited to control the cost in an all-round way while continuously improving the decoration effect of the shop. The jewelry showcase is made of wood baking varnish with brushed champagne gold stainless steel edging decoration. The color difference between the showcases also makes the overall shopping environment less monotonous and more dynamic.
Funroad Decoration focuses on jewelry store design, decoration and showcase customization. One-stop whole store service, with nearly 10 years of rich design, production and construction experience. Pursue perfect quality, adhere to the business philosophy of striving for survival by quality and developing by reputation and serve every customer well. More than a thousand successful cases help you quickly improve your brand image!
If you have any question or ideas with your new open store jewelry showcase, you can contact us at Tel: +8613902971377, Email: sale@szfunroad.com, Log in to the official website of Funroad Decoration: https://www.funroadisplay.com/